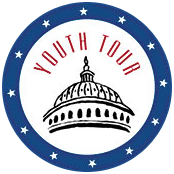 Every summer, NVEC sends high school students from the cooperative's service territory to participate in the Government-in Action Youth Tour. This all-expenses-paid trip allows young adults to explore different aspects of the government, while participating in a "once in a lifetime" experience. Youth Tour is a leadership program sponsored by local electric cooperatives.
Students begin their trip in Austin, with more than 150 other teens from across rural Texas, to explore our state capital. Then the delegates will head to Virginia and the Washington D.C. area for a fun-filled week of adventure and inspiration that includes meeting congressional leaders, visiting national monuments and historic sites, touring Smithsonian Institution museums, going on a boat cruise on the Potomac River, and rallying with more than 1,900 fellow students for a day of observing leadership speakers – all without having to spend a dime of their own money.
How do I apply?
Email dtowns@navasotavalley.com for an application.
Applications are due December 30, 2022.
Who is eligible?
1. Parent, legal guardian or applicant must be a member of NVEC (i.e. electric account must be in their name).
If relationship is anything other than parent or self, paperwork may be required showing that the member is the legal guardian of the applicant.

If the membership is held by a non-natural person or entity, the designated voter or his/her dependent(s) are eligible.
2. Applicant must be a high school sophomore, junior, or senior (including home-schooled) during the 2022-2023 school year.
3. Applicant must be able to participate in the Youth Tour trip from June 11-20.
4. Must be able to ride in a bus for several hours in a single day and fly in an airplane.
5. Must have a State of Texas issued driver's license or ID.
6. Prior winners of the NVEC Youth Tour contest are not eligible to win.
How much does it cost?
FREE!!
NVEC pays for all travel expenses including airfare, hotel, and food. However, most students like to bring additional money for spending on souvenirs.